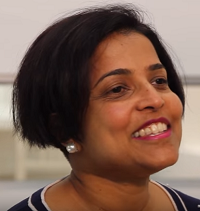 Rajitha Rajasingham, Delivery Director at Oreta.
My name's Rajitha Rajasingham and I am a Delivery Director at Oreta. I grew up wanting to work in a bank.
Following my graduate year I fell into an IT role by complete chance and since then I have not looked back.
Working in IT has given me flexibility and portability and most importantly it has changed the way I work. As a business owner I appreciate the value of diversity and the perspective that women bring into the workplace.
I recently brought on a female intern whom we ended up recruiting into the business. I want to give back by encouraging women into the IT industry, it's not the geeky place it used to be.